▼
[Product Overview]
1. What is Native Milk Protein?
---
1)Replacement of whey protein from acidification and chemical degenerationWhey protein, widely used as a food material, is manufactured by drying and pulverization of whey, by-product from cheese/casein manufacture process, and process of concentration/separation/hydrolysis.
Since acidification in this process passes the acidification of whey or additional chemical treatment, it causes internal acidification, degenerates through chemical treatment process or provides product of lower quality.
Thereupon Native Milk Protein is to improve the instability of the market and unlike the existing process to manufacture whey protein, it provides native whey product by extracting directly from skim milk through membrane method.
2. Advantages of Native Milk Protein
---
1)Pure protein in original state (undenatured protein)
It is not the by-product from cheese manufacture process, but a pure milk protein directly extracted from fresh skim milk to obtain rich content of high-quality essential amino acids
2)Reinforcement of internal absorption through cold treatment
Hot treatment causes degeneration of milk protein to make internal absorption difficult. Supplementing such problem, Native Milk Protein is from cold treatment without protein degeneration for pure protein to enhance internal absorption rate
3)Extra low fat
It removes the milk fat throughout two steps of special membrane process to reduce fat content significantly, to increase nutritious value and to preserve original taste
(Fat content: 0.15g per 30g)
4)Excellent amino-gram
Native Milk Protein obtains the highest content of most types of amino acid, in comparison with not only WPC but also MPC and MPI. Since it obtains amino acid profile with optimal balance for rapid muscle recovery, sufficient level of essential amino acid is satisfied only with intake.
**Essential Amino Acid(EAA):
Amino acid unable to be synthesized in the body so to be supplied by food
>>
Content of most EAA's is high in Native Milk Protein that in existing whey protein.
***Branched Chain Amino Acid(BCAA):
Amino acid with a shape of branches spreading to various directions to attract more amino acid and to make protein synthesis easier
>>
Native Milk Protein obtains high content of leucine to promote regeneration of muscle, fatigue recovery and reduction of blood sugar
>>
Since Native Milk Protein obtains 100 for chemical index of essential amino acid, you can satisfy the minimum protein intake without eating other products.
5) Excellent for acceleration and vitalization of muscle synthesis
Branched Chain Amino Acid(BCAA)
Leucine, valine and isoleucine are amino acid composing the protein in a muscle. Native Milk Protein consists of the golden ratio to promote muscle synthesis, 2(leucine):1(isoleucine):1(valine). Especially, leucine obtains the strength in following functions
Promotion of protein synthesis
Enhancement of endurance
Delay of occurrence of fatigue
Helping recovery
Acceleration of tissue recovery
Especially, valine helps the reduction of fatigue and enhancement of endurance during exercise to prevent injuries
6) Help for solving sarcopenia with rich content of leucine
Sarcopenia is the reduction of muscle due to aging caused by decline in ability of amino acid in the body. If a person takes a sufficient amount of amino acid, it helps muscle synthesis
At this point, leucine, the major ingredient of muscle synthesis is highly contained in Native Milk Protein to show excellent effect in rapid recovery of muscle and sarcopenia.
7) Help for diet by satiety from protein with rapid absorption
When you are on a diet, protein is suggested to decrease the fat and to supplement for physical exercise to maintain muscle.
Intake of high-quality protein with essential amino acid is important for muscle synthesis, and most of all, leucine is especially important. Native Milk Protein is highly soluble
to be absorbed into the body and to bring satiety after intake.
Absorption Rate of Native Milk Protein
NMP 30 minutes vs.
Common WPC 47 hours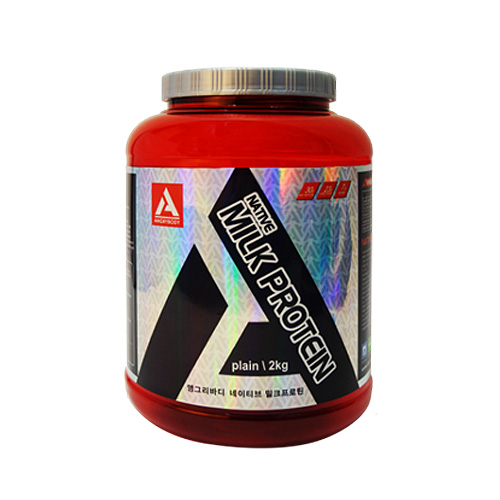 ▼ [Major Functions]
-Contain highest quality of amino acid in comparison with existing WPC
-No degeneration of protein from extraction of raw milk, maintenance of uniform nutrient content
-Preservation of nutritious and functional value
-Rapid internal absorption in 30 minutes
-Contain rich Branched Chain Amino Acid, especially with high content of leucine
-Golden ratio of promotion of muscle synthesis, leucine(2) : isoleucine(1) : valine(1)
-Contain rich tryptophan
-Chemical index 100, satisfy the minimum protein intake by only taking NMP
-Obtain lower content than existing WPC
-Light and simple taste from extra low fat without unpleasantness
* Ideal source of protein for nutrition for exercise
* Excellent source of protein for diet
* Optimal source of protein to solve sarcopenia
Ideal source of protein from various food for men and women of all ages
▼ [Size & Components]
Native Milk Protein 2KG
- Country of Origin: France
Native Milk 100% protein supplement
Special method to extract from milk
→ Original form of protein!
Enhance muscle endurance!
Original form of protein! High retention-absorption rate in a body
Overwhelming content of cystine and leucine in comparison with common WPC