Introduction
1. Safe ceramic heater keeps toothbrush sterilized and a dried all the time.
2. Toothbrush sterilizer's three-minute hourglass let you know the optimal brushing time.
3. Simple design that makes teeth brushing fun.
4. Establish healthy brushing habits and fun for children who hate brushing teeth.
5. Practical and economical to use as one toothbrush sterilizer can sterilize up to six toothbrushes.
6. Wall-mounted design makes it easy-to-use.
7. Use toothpaste more conveniently with its toothpaste holder.
8. Easy to clean with its detachable brush holder.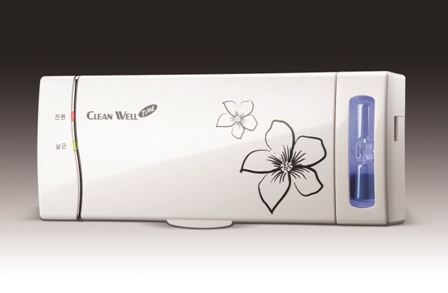 Features
Toothbrush sterilizer body+ 3 minute hourglass + toothbrush holder+ Toothpaste holder + Wall Panel +
Double-sided tape
※ Toothbrush sterilization is essential and its 3 minute hourglass establishes healthy brushing habits.

Spec
1. Product weight : 310g
2. Power consumption : 7W
3. Power supply : input AC 220V, 60㎐
4. How to install : Wall-mounted (mounting panel included)